A few nights ago, the Ronald Brown stopped so we could perform what is called a CTD. CTD stands for conductivity, temperature, depth and is a tool to measure those and other physical characteristics of seawater. In a way, you can think of a CTD as the ocean equivalent of an upper-air sounding for the atmosphere. Scientists gain information about ocean characteristics for a variety of depths.
The CTD device itself, is actually a host of instruments attached to a large metal rosette. There are various sensors and probes. As you can see, arrayed around the rosette is a series of gray cylinders. These are called Niskin bottles. Each bottle fills with water as the CTD is lowered into the ocean, often to depths exceeding 4000 meters. Each Niskin bottle is set to close at a different depth and they allow scientists to collect samples of water from a variety of depths that can then be subjected to laboratory analysis.
The first CTD the Ronald Brown attempted wasn't actually able to be conducted. The overhead boom that extends the CTD over the side of the ship wouldn't properly extend. However, the crew managed to get it fixed the next day and they proceeded to conduct the CTD.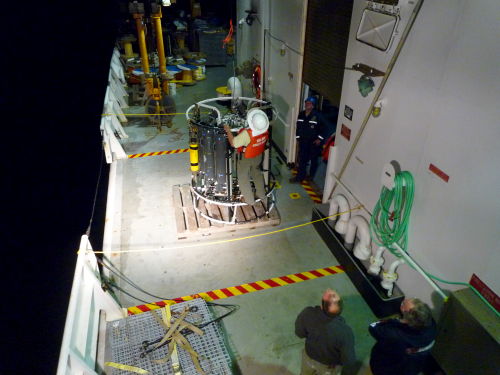 Chief Survey Technician Jonathan Shannahoff (in the orange work vest) supervises the deployment of the CTD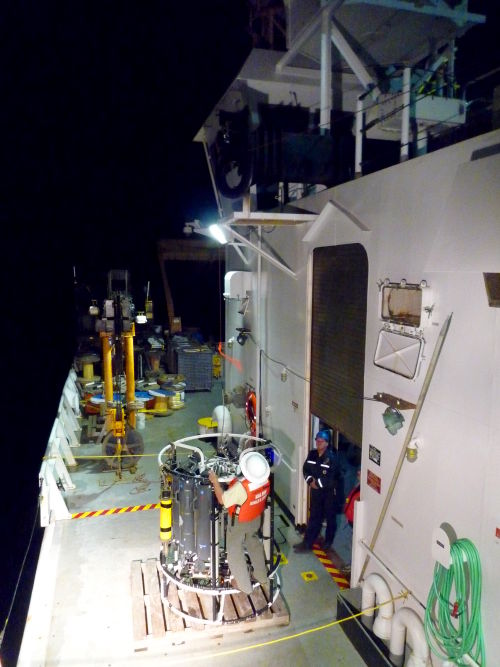 Kind and heartfelt statements of love, joy, and mutual admiration are exchanged among the involved parties once they realize the boom arm won't extend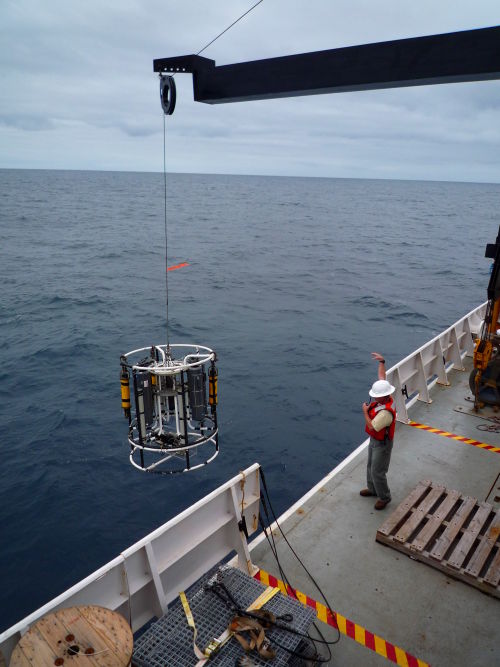 The boom now functioning, the CTD device is lowered into the water