I spent last week away on my honeymoon, so I'm a little late reporting this, but the Harry Potter publishers have released the cover artwork for the US deluxe edition. The cover will depict Harry, Hermione, and Ron riding on the back of a flying dragon. How cool is that. We can make some speculation about the location they are flying over and rather or not the dragon is one that we've seen before, but we don't have enough information to make any sort of conclusion. I'm just excited that I have something awesome like dragon riding to look forward to in the upcoming book.
US Deluxe Edition Cover for Harry Potter and the Deathly Hallows (front and back)[cropped]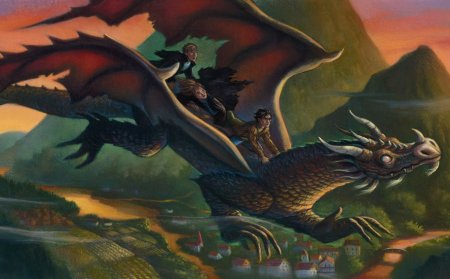 To the new deluxe edition cover in its full sized glory, please check out the following link: http://www.mugglenet.com/gallery/displayimage.php?album=2097&pos=0
Attention copyright holders: This is not my image and I make no claim of ownership. If you do not wish this image to be here, merely ask and I will be happy to comply.